Today, most organizations have many different applications in their portfolio. And often, a member of staff must use multiple applications to perform one task for a customer. That's why we've created Centerpoint Editor in a way that makes it easy to integrate with your existing systems and applications.

Organizations, especially in the insurance, life & pension, banking, and public sector industries, must be able to produce automatic and manual communication that is compliant with rules and regulations. When you first think about it, it sounds like a tedious task to ensure your organization is compliant. And it can be, if you don't have the right strategy and technology in place. It's not uncommon for different departments to use different applications for this type of communication. This creates a risk, and customer communication may look different depending on which part of your organization is sending it. And there's a risk that it's not compliant.
Personal, on-brand, and compliant communication
The Centerpoint platform empowers organizations to create great-looking communication whilst still being personal, on-brand, and compliant. Using REST APIs allows easy transfer of data from an organization's existing business systems into the document template (customer communication). The finished piece of communication will be stored in an archive as a PDF file.
We recently worked with a customer who wanted the Centerpoint Editor integrated with their existing business system. The look and feel of the application they used should be kept the same. They had used REACT to write their UI, which meant they could use NPM packages of the Centerpoint Editor to plug the parts of the Editor they required into their existing business system. The end user wouldn't even notice they were using part of a different platform.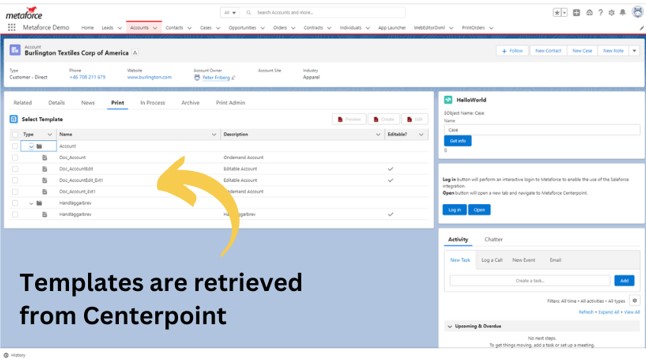 Result
Integrating the Centerpoint Editor improved efficiency and compliance for our customer for manual and automatic documents. It was quick and easy to train staff members on the added functionalities as the look and feel of the system were the same.