Take control of
all your written communication

Use Centerpoint to confidently orchestrate communication with your customers in a personal and smooth omnichannel fashion.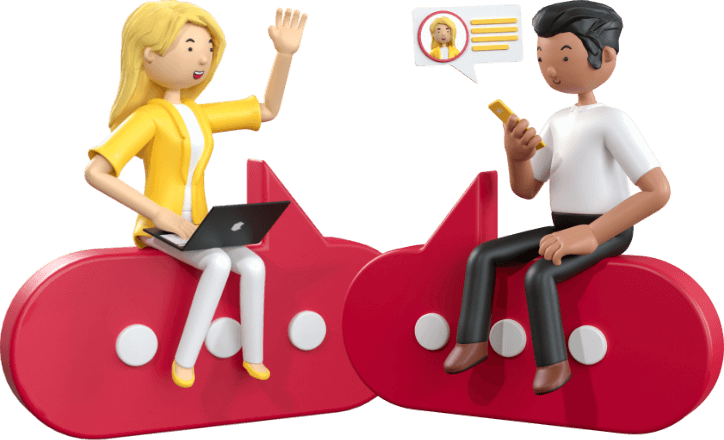 The customer communication platform
that fits your needs, size, and budget

Whether you are looking for a Customer Communication Management (CCM) or Customer Experience Management (CXM) solution – we have the platform for you.

As the CCM industry is in transition and converging with the CXM market we see the need for supporting you with both. And since our pricing is tailored based on volume and number of users, organizations of all sizes can harvest the benefits of a full-blown, secure, and compliant enterprise communication platform, at a price they can afford.
All the building blocks you need to develop, manage, produce, distribute, notify, present, sign, and archive - across all types of business communication.
Connecting your business systems to Centerpoint enables unified customer communication and brings significant efficiency gains — without altering your existing systems.
Here's how straightforward it's with Centerpoint:
Connect

Join your business systems to Centerpoint and empower your organization to access information from several system from within one platform.

Build

Use your data to orchestrate all your digital dialogs and to create your written communication templates - reducing lead time through a flexible object-orientated approach.

Communicate

Delight customers with personal, timely, and relevant communication from print and PDF to online dialogs using your data.

Organize

Archive your customer communication in one safe location with Centerpoint's archive solution (or your own).
A modular design
Centerpoint's modular design allows our customers to select the features and functionalities they need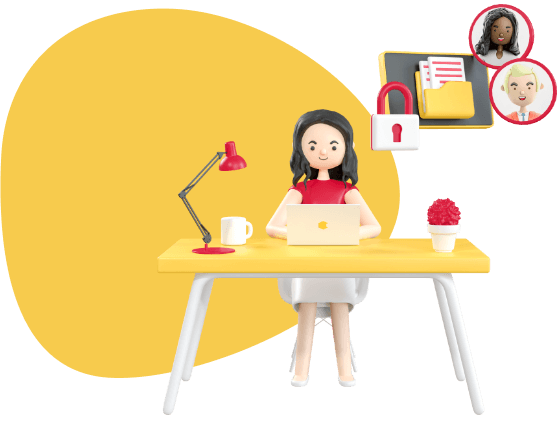 Centerpoint Pages
With Centerpoint Pages, you use your data to create page-oriented templates for automated batch and on-demand communication. And because you can restrict who can create, edit, and access templates, you're securing that everything stays consistent, on-brand, and compliant. The object-oriented approach to creating templates is so easy you don't even have to involve IT.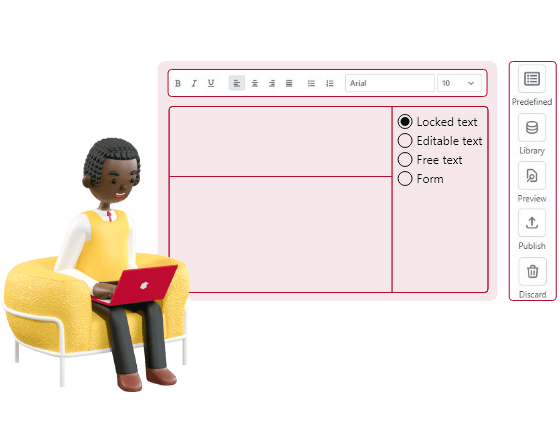 Centerpoint Editor
Avoid time-consuming manual work. Editor makes things simple. It's where your administrators edit interactive letters in a step-by-step process created by your developers in Centerpoint Pages. And because the Editor is accessed directly from your business systems, there's no need to learn a new tool. So your team is editing in no time.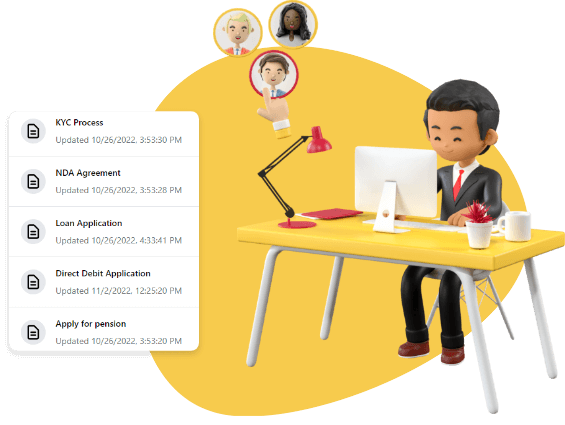 Centerpoint Smartforms
Replace complicated and time-consuming paper-based processes. With Smartforms, you can orchestrate all your digital dialogs from your business systems to external databases. And you can also pre-populate and collect data and automatically distribute, request digital signatures, and archive. Or even trigger a new dialog or activate another workflow based on your customer's action. It's automagic.
The data from your digital dialogs, from KYC processes to loan applications and agreements, can be pre-populated and fed back to your business systems. And your team can easily track the status from "in progress" to "close".
Centerpoint Smartforms contains all the functions you need to build interactive digital dialogs (forms, documents, and messages) in a no-code object-oriented approach. Just set up each dialog for one or several parties to interact and sign digitally. And deploy anywhere. On your website, online portals, or send it to a customer via text or email.
That's not all
You may already have solutions for archiving, omni channel distribution and e-signature that Centerpoint easily can integrate with, but we also offer these solutions as add-ons to our core offering:
How do we get started?

We have a detailed onboarding plan which is customized to each client's specific needs. We start with a kick-off meeting, either in person or online, depending on your preference. You will be assigned a Technical Project Manager to guide you through the implementation process.
Can we use data from our existing business systems?

Yes. It's easy to connect your existing business systems to the Centerpoint platform. This means you can use data you already have to create on-brand, and personalized communication to your customers.
What does onboarding look like?

We provide a comprehensive onboarding plan. The plan includes training on creating your own templates and processes, training for business users, and any other custom training you need to get started.
What makes Centerpoint different from other CCM or CXM providers?

Centerpoint is both a CCM and a CXM in one system, and we support all types of communication flows (quotes, contracts, claims, KYC etc). Our platform is highly flexible and designed for all aspects of customer communication. It allows you to create templates and processes to deliver omnichannel batch, on-demand, interactive letters, and online dialogs from one platform – without the involvement of your IT department.
We're a small organization. Is Centerpoint affordable?

We believe that sophisticated CCM and CXM platforms should be for everyone – not just for enterprise giants. Our pricing model is based on things like volume, number of users, and your internal setup to ensure you get the best solution for your needs.
Does Centerpoint integrate with our CRM and core business systems?

Yes. Our platform is flexible and can integrate with most CRM systems and core business systems. This allows business users to initiate all their customer communication from a familiar user interface rather than having to learn how to use a new system. We are continuously adding new integrations to make our customers' lives easier.
Partner up with Metaforce.
Improve your customer dialog.
When you're ready, we're available to guide, help, and talk about how you can communicate more simply with your customers using Centerpoint.